COVID-19 Announcements
March 2021
Previous Announcement:
June 2020
Churches in NY can now open at 25% capacity per Phase 2 COVID-19 reopening plan: https://coronavirus.health.ny.gov/home. If you plan on staying home, Sunday service will be live-streamed on the Bread of Life Facebook page at 10:30 am. For those who are attending service, please review our reopening plan below: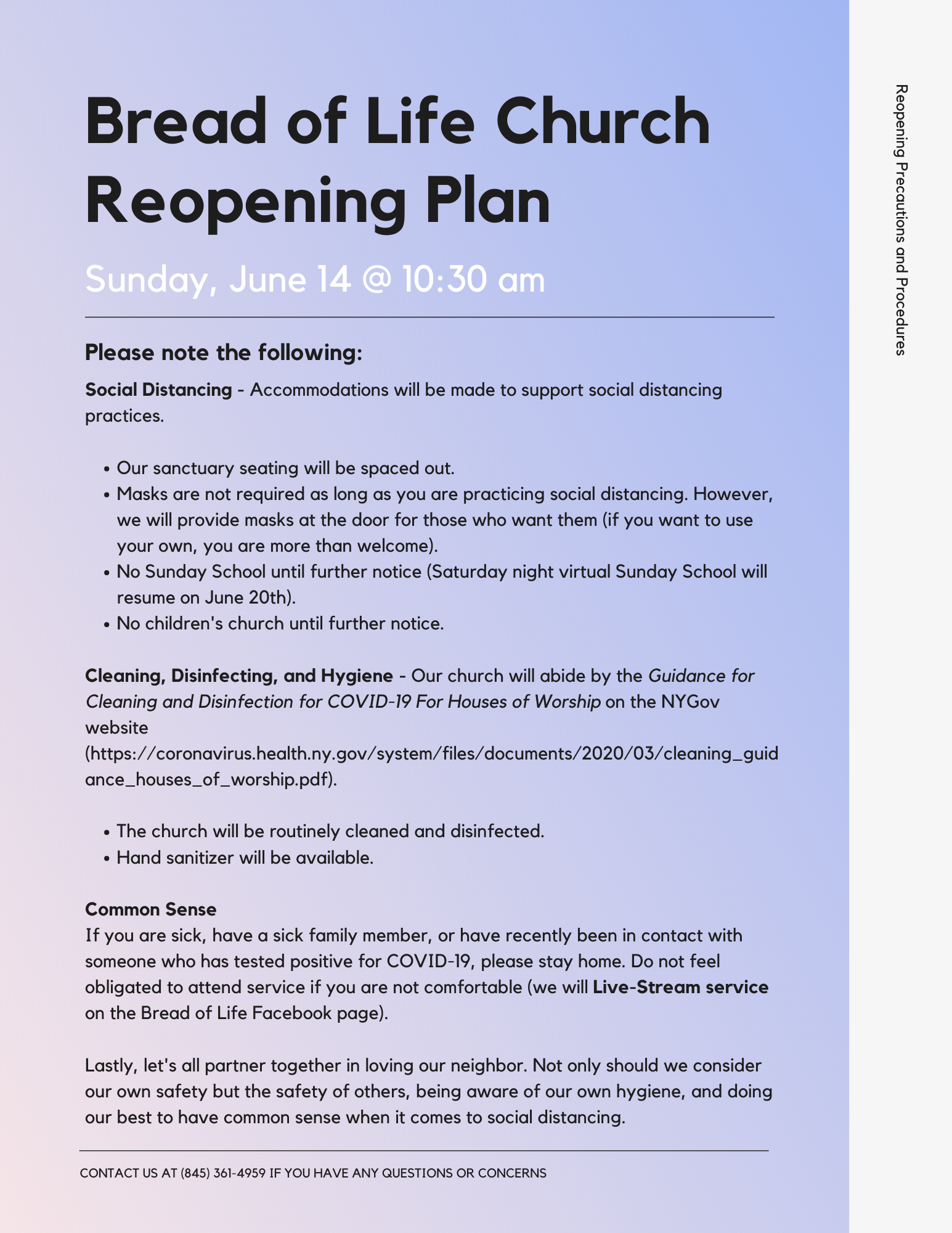 May 2020
After confirming with our county executive and local law enforcement, we are very excited to announce that this week we will have a Drive-In service! Nothing fancy, just a stage and sound system facing the parking lot. There will be worship and Pastor will preach. It will be a great opportunity for us to come together while being mindful of the pandemic.
We ask that all in attendance practice the safety measures set forth by the CDC (https://www.cdc.gov/coronavirus/2019-ncov/…/faith-based.html) and our local government (https://www.orangecountygov.com/1936/Coronavirus). Please keep in mind that there will be no access to the church building. Lastly, if you are an at-risk person, feel no obligation to come, and, if you are feeling sick, please stay home. For those who cannot or are unable to attend, we will be live-streaming the service on the Bread of Life Facebook page.
Thank you, Bread of Life congregants, for your continued prayer and support during this challenging time. We look forward to seeing you on Sunday. God bless!
April 2020
We're continually praying for the health of our church body and of the nation. First, we want to thank the first responders and essential workers for all they do – we're praying for your protection daily!
As you all know, Governor Cuomo has extended the PAUSE in New York State until May 15. We will be continuing our virtual services on the Bread of Life Facebook page until then. We'll reevaluate as things progress.
We encourage you to trust in God and know that He is in control. He will not abandon you:
"Do not worry about your life, what you will eat; or about your body, what you will wear. Life is more than food, and the body more than clothes. Consider the ravens: They do not sow or reap, they have no storeroom or barn; yet God feeds them. And how much more valuable you are than birds! Who of you by worrying can add a single hour to his life? Since you cannot do this very little thing, why do you worry about the rest?"

Luke 12:22-26
March 2020
We are praying for your health and comfort during this time. As mentioned in the previous post our church will be acting responsibly, therefore, we are following The President's Coronavirus Guidelines for America <https://www.whitehouse.gov/wp-content/uploads/2020/03/03.16.20_coronavirus-guidance_8.5x11_315PM.pdf>. That means all of our ministry gatherings are canceled this week and most likely the following (updates will continue). However, in order that our church can gather in spirit, Pastor Bert will post a sermon from home Sunday morning (Facebook and our website).
At a time like this, it's natural to be anxious, but Paul wrote to the Philippians:
"And I am sure of this, that he who began a good work in you will bring it to completion at the day of Jesus Christ."

Philippians 1:6
If you are in Christ, you can have confidence that God will work all things (good and bad) together for your good. So, seek first the Kingdom of God and place your trust in Jesus who is the author and finisher of our faith.
We encourage you to tune in to the sermon. Perhaps, there is a word just for you. Also, if you'd like to tithe you can do so under the "Give" tab on our website. May the Lord bless and keep you.
March 2020
In light of COVID-19 aka Coronavirus reaching Orange County, we will be taking certain precautions recommended on the CDC website. This will include cleaning and disinfecting our worship/fellowship areas.
Our 10:30 Sunday morning service will continue as normal for the time being. Prayer meetings on Mondays and Wednesday night Adult Bible Study will also continue as usual. However, we will be canceling all Friday night activities, including Royal Rangers, Girls Club, Youth Group and Young Adults Bible Study, for the next few weeks.
To state the obvious, if you are sick it is better that you stay home and recover. If you are an at-risk person, please exercise wisdom and protect yourself.
By no means, should we operate outside of faith in our Lord Jesus, but faith is not without reason and just as the Israelites in the Old Testament took practical steps to avoid the spread of disease so should we as Christians. Our church will respond responsibly and keep you updated as circumstances unfold.
Lastly, we encourage you to remain constant in prayer and trust that the Lord will lead you in all things:
"Do not be anxious about anything, but in everything by prayer and supplication with thanksgiving let your requests be made known to God. And the peace of God, which surpasses all understanding, will guard your hearts and your minds in Christ Jesus."

Philippians 4:6-7